Terri Studio Designs – Spring Term Classes
Starting Dates:
Tuesday 15th January 2019             7.30 p.m. – 10.00 p.m.
Wednesday, 16th January 2019       7.30 p.m. – 10.00 p.m.
Friday, 18th January 2019                10.00 a.m. – 12.30 p.m. (full)
Venue:
Holy Family Resourse Centre, Deansgrange (beside Baker's Public House)
Contact:
M: 086 602 7561
E: terristudiodesigns@gmail.com
W: terristuidodesigns.com
"Earth, Wind and Fire" Exhibition – 23rd November – 17th February 2019.

Mary Palmer is exhibiting in the Crawford Gallery in Cork. Entitled 'Earth Wind and Fire' which opened on the 23rd November and closes on 17th February 2019. More information here: https://www.crawfordartgallery.ie/Earth-Wind-Fire-2018.html.
Kaffe Fassett and Brandon Mably are coming to Ireland in March 2019!
Northern Ireland Patchwork Guild – 2nd and 3rd March 2019
Kaffe Fassett and Brandon Mably will visit the Northern Ireland Patchwork Guild in March 2019.  This is to celebrate 40 years of the Guild.  On the Saturday 2nd March at 4.00 p.m. there will be a talk by Kaffe Fassett in the Ulster Museum, Stranmillis, Belfast entitled "Colour and Inspiration". Cost per ticket is £20 or €25.  The museum holds 175 people so there are plenty of tickets still available.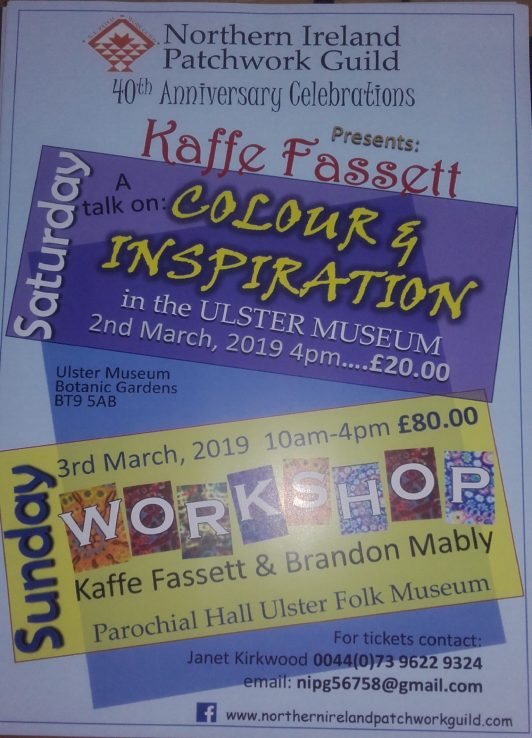 On the Sunday 3rd March 2019 there will be a Workshop on "Colour and Inspiration" with Kaffe Fassett and Brandon Mably.  This is from 10.00 a.m. until 4.00 p.m. in the Parochial Hall at the Ulster Folk and Transport Museum in Cultra near Holywood.  It is being supported by Windmill Fabrics from Saintfield who will bring fabrics etc. to the workshop, although you don't need to be using Kaffe Fassett fabrics.  The workshop is based on the snowball quilt that is in his Quilts from Ireland book.  It involves choosing fabrics and colours and rotary cutting. Placing the pieces on to a design wall. There will be no sewing.  Very limited spaces are still available on the workshop and the cost is £80 or €95. For full details click here
Appletree Crafts – 5th and 6th March 2019
Kaffe Fassett and Brandon Mably are also coming to Appletree Crafts in Newtownmountkenndy (Park Hotel) for two days of workshops on 5th and 6th March 2019.  Click here for full details.
Athlone Sewin – Friday, 23rd to Sunday 25th November 2018
The Quilters Guild of Ireland are holding a Sewin in the Sheraton Hotel Athlone from 23rd to 25th November 2018. Full details of the Sewin can be found by clicking on this link –  https://quiltersguildireland.com/events/
QGI members are welcome to attend for the day only if it is not possible to stay for the full weekend.
The Sewin coincides with the Athlone Schoolhouse Quilters Exhibition which is being held in St. Mary's Primary School, Fair Green Athlone on the same dates.
28th Ju
ly 2018 – "Get Away" Bag Workshop
"Get Away" Bag Workshop with Maria and Terri.
Large capacity bag – ideal for all your quilting needs, or indeed for a weekend away.  Perfect too for all that Birmingham shopping!
Venue:   Holy Family Resource Centre, Kill Avenue, Dun Laoghaire
Date:     Saturday, 28th July 2018
Time:     10.00 a.m. to 5.00 p.m.
Cost:      €50.00
Contact Terri on 086 602 7516 or Maria on 083 008 3362 to book a place – limited places available. Requirements will be emailed once registered. Some fabric kits available – cost €52.
Signal Arts Centre – WPG Exhibition – 9th/22nd July 2018
WPG will be holding an exhibition of its work in the Signal Arts Centre, 1 Albert Avenue, Bray, Co. Wicklow, from 9th to 22nd July 2018.
Theme: "Look What I Made"
The exhibition will represent the diversity of work of the members of the group from the enthusiastic beginner to the very experienced quilter.
The Exhibition will be officially opened on Thursday 12th July 2018 from 7.00 – 9.00 p.m. by Freelance Journalist and Writer, Valerie Cox. For more information click here
For an Entry Form (for WPG members only) please click here.
50 Years of the RDS Craft Awards
From Thurs 21st June to Fri 17th August 2018
RDS Library
Opening Times: 10.00 a.m. – 5.00 p.m.
http://www.rds.ie/Whats-On/Event/33115
IPS National Exhibition – "Making Waves"
This year the Society National Exhibition is being held at:
The Chocolate Factory, 26 King's Inns Street, Dublin from 2nd -14th July 2018
Theme –  "Making Waves"
https://www.easternbranch-ips.com/events/2018/7/2/ips-national-exhibition-making-waves
Laois Quilters Group Exhibition
First group exhibition in the beautiful gallery of the Library in Mountmellick from Tuesday 3 July to Friday 27 July 2018.
The Library is in O'Moore Street, Mountmellick and opening times are:
Tuesday           10.00 a.m.-1.00 p.m and 2.00 – 7.30 p.m.
Wednesday      10.00 a.m.-1.00 p.m. and 2.00- 5.30 p.m.
Thursday          10.00 a.m.-1.00 p.m. and 2.00- 5.30 p.m.
Friday               10.00 a.m – 1.00 p.m and 2.00- 5.00 p.m.
Saturday           10.00 a.m. – 2.00 p.m.*
The library closes from 1.00 – 2.00 p.m. for lunch.
*Closed on Saturdays of Bank Holiday Weekends
The Group would like to welcome all quilters to the exhibition.
"River of Dreams" 13th Annual Quilt Exhibition 2018
Limerick School of Art and Design, Clare Street, Limerick
Thursday, 14th to Tuesday, 19th June 2018
10:00 a.m. – 5:00 p.m. daily
https://www.facebook.com/riverofdreamsquiltexhibition/
Quilters Guild of Ireland
Annual Conference – Glenroyal Hotel, Maynooth, Co. Kildare
Friday 6th April – Monday, 9th April 2018
For brochure of the event click here
---
Recent Past Events
Scouting Sisters Quilt Exhibition
Greystones Scout Den (opposite La Touche Hotel)
28th October to 30th October 2017
11:30 a.m. – 5:00 p.m. daily
Admission Free
https://www.greystonesguide.ie/god-save-the-quilt/
The Knitting & Stitching Show 2017
9th to 12th November 2017 at Simmonscourt, RDS, Dublin 4.
Tidal Offerings by Anne Jeffares
Textile Art Exhibition
Signal Arts Centre, Bray from 31st July to 13th August 2017
Festival of Quilts 2017
NEC, Birmingham, UK between 10th until 13th August 2017.
Hands Across the Border 2017
The IPS and The Northern Ireland Patchwork Guild present: "Hands Across the Border 2017" "Aurora". Southern venue – the official opening of the exhibition will take place in Dublin on Tuesday 16th May 2017 in CHQ Custom House Quarter, IFSC, Custom House Quay, Dublin Northside, Dublin. Exhibition will run until Friday 26th May 2017. Northern venue is Island Arts Centre, Lisburn, June 2017.
"Fun" Modern Quilters Ireland
Second exhibition at St. Patricks Hospital, Dublin 2nd May 2017 to 23rd June 2017
The Spike Quilters Exhibition 2017
Thurles Source Library centre from Tuesday, 2nd May 2017 to Tuesday 30th May 2017. Library hours. (9.30 to5 pm week days and 10am to 5pm Sat. Closes 1pm to 2pm for Lunch.
Courthouse Gallery in Ennistymon, Co. Clare
An exhibition that will be held this summer by Tracy Watson and Joke Buursma – 12th May 2017 and 23rd June 2017. Details on thecourthousegallery.com
"3rd Irish Quilters' Showcase Exhibition"
May/June 2017. Will take place at "The Mitchell Hall", Spike Island, Cork.
Octagon Quilters 2017 Exhibition June 2017
The Octagon Quilters will hold their 2017 Annual Exhibition of their work at Westport Town Hall, Co. Mayo daily from 12.00pm to 6.00pm during Monday 5th June 2017 until Saturday 10th June 2017. Admission Free.
The Quilt Fest – Newtownmountkennedy
Hosted by Wicklow Patchwork Group and Appletree Crafts.
Located in Appletree Crafts Quilt Shop from 6-11th of June 2017 and St.Matthew's Church from 9-11th of June 2017, will be displaying quilts of all styles made by members of WPG, customers and students of Apple Tree Crafts and members of the public.
The River of Dreams 12th Annual Quilt Exhibition 2017
Limerick School of Art and Design, Clare St, Limerick. From Friday 23rd June to Friday 30th June 10:00 am and 5:00 pm.